Add your review
Yamaha PSR-F51 Keyboard
Description
The Yamaha PSR F51 Portable Keyboard lets you take your music on the go. The 61 key design is ideal for student musicians who don't require a full board, but want enough to develop their skills. The function panel is easy to use and offers access to 120 voices for fun, interactive learning. The duo mode allows two people to play the same scale simultaneously, whilst the click metronome assists with developing your timing. The PSR F51 has a slot for 6 AA batteries, allowing you to use it whilst on the move. This keyboard is ideal for student musicians requiring an entertaining platform to develop their piano skills.
Easy, user friendly and fun!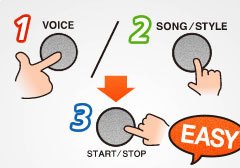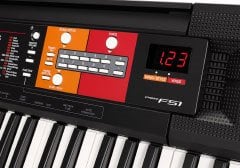 The PSR-F51 is incredibly easy to use with its color-coded, intuitive control panel.
Simply select a voice, choose a rhythm and start. It's as simple as 1, 2, 3 !
Voices and Styles from all around the world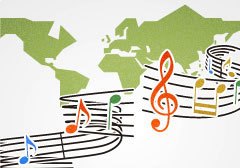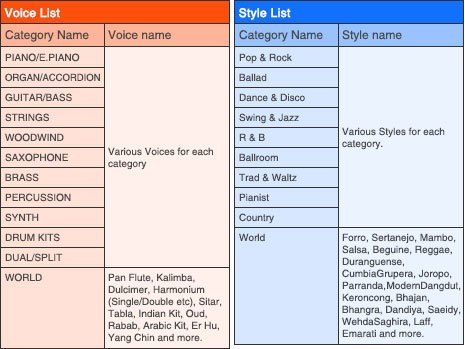 With 120 Voices & 114 Styles, the PSR-F51 is amazingly versatile. In addition to familiar favouries such as pianos, guitars and brass, the keyboard also features many traditional instruments from all over the world. Dual Voice combines instruments such as piano and strings for a rich and powerful sound.
Powerful sound
With the combination of 2.5W + 2.5W amplifiers and high-quality Yamaha Voices, you can enjoy powerful and realistic sound when performing in a wide variety of different situations.
Useful functions for practice including a metronome and a Duo mode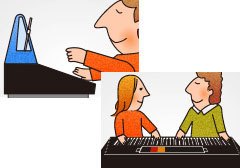 The built-in metronome allows players to hone their sense of rhythm—vital when performing—while practicing. The PSR-F51 also offers a Duo mode that enables two people to play together on identical keyboard sections, which can be very useful when performing live or during lessons.
Headphones output jack
Use your headphones to practice without disturbing others or connect the instrument to a sound system when playing on stage. (Headphones and connecting cables not included)
Operate using batteries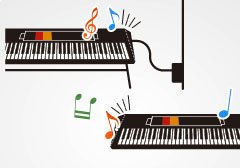 The PSR-F51 can be operated using batteries instead of an AC adaptor. It requires six 1.5-V AA size batteries, which can be either rechargeable (1.2V Ni-MH rechargeable batteries or equivalent) or non-rechargeable.
Music Rest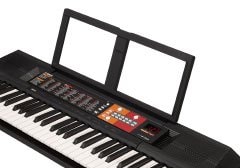 The keyboard comes complete with a music rest for holding sheet music.